Bihar ePass For Lockdown 2021 :- Hello Friends, Bihar Government ne Lockdown 2021 ki ghoshna kar diya hai. Bihar ke sabhi nagrik ko is Lockdown ka palan karna hoga. Yadi aapko fir v kisi bhi Kam se ghar se bahar niklna hai, To aap sabhi ke liye Bihar Government ne Lockdown ePass 2021 ki shuruat ki hai. Aapko ePass ke liye Online apply karna hai, Aur bas aap apne ghar se bahar nikal sakte hai. Bihar ePass For Lockdown 2021 ke liye Apply kaise karna hai, Iski puri jankari hamne aaj ke is article me share kiya hai.
Bihar Government ne abhi 15th May 2021 tak Lockdown ki ghoshna ki hai, Lekin is time aane par badhaya bhi ja sakta hai. Yadi aap is Lockdown me ghar se kisi jaruri kaam ke liye bahar nikalna chahte hai, To aap niche diye gaye Direct link se Bihar Lockdown ePass 2021 ke liye online apply kar sakte hai. Hamne is article me Bihar ePass ke liye sabhi jankari detail me diya hai, Isliye is post ko last tak jarur padhe.
Latest Update :- Bihar Lockdown ePass 2021 ke liye Online Apply shuru kar diya gaya hai. Aap sabhi Bihar ke nagrik RTPS ke official website @serviceonline.bihar.gov.in se online Apply kar sakte hai.
CHECK THIS :- झारखंड यात्रा ई-पास ऑनलाइन Form | Apply for Lockdown पास epassjharkhand.nic.in
Bihar ePass For Lockdown 2021
जैसा की आप सभी को पता है Covid19 (कोरोनावायरस) महामारी के कारण लॉकडाउन 15th May 2021 तक लगा दिया गया है| ऐसे मे बिहार के मुख्यमंत्री नितीश कुमार ने बिहार में लॉकडाउन ई-पास सुविधा की शुरुआत की है| इसलिए अब जो भी व्यक्ती अपने आवश्यक कार्य के लिए घर से बहार निकलना चाहते है, वे सभी लॉकडाउन ई-पास (Lockdown ePass 2021) के लिए ऑनलाइन फॉर्म भर सकते है|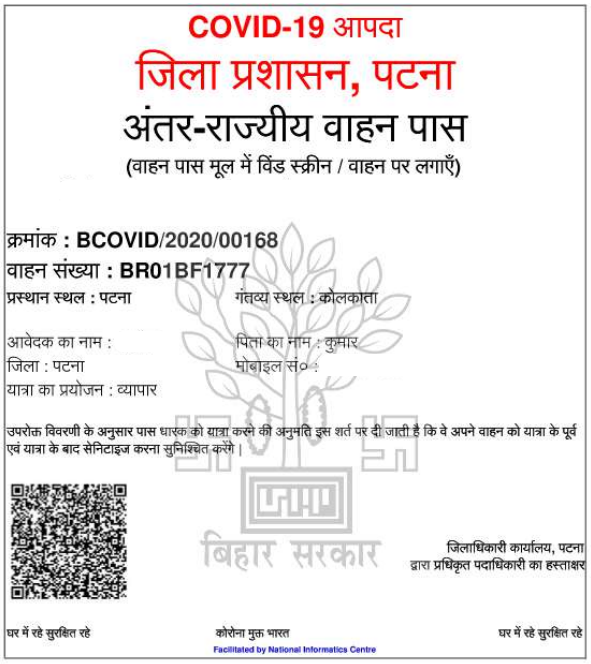 CHECK THIS :- Uttar Pradesh Corona E Pass 2021: Apply Online For Movement, Entry, Curfew Pass (All Districts)
Bihar ePass for Lockdown 2021 Apply Online
Yadi aap Bihar me apne kisi bhi kaam se Ghar se bahar jana chahte hai, To aapke paas Lockdown ePass hona chahiye. Bihar government sabhi nagriko ko E Pass dene ke liye Online Registration shuru kar diya hai, Aapko Covid 19 Movement, Entry & Lockdown ePass lene ke liye Online Registration Form bharna hoga. Hamne niche Bihar E Pass 2021 online apply karne ke liye step by step jankari diya hai.
Bihar Lockdown ePass 2021 Details
| | |
| --- | --- |
| Head Authority | Bihar Government |
| Article Name | Bihar Lockdown ePass Online Application |
| Launched By | CM Nitish Kumar |
| Objective | Free movement in the city |
| Beneficiaries | Essential service providers |
| Application Mode | Online |
| Official Website | https://serviceonline.bihar.gov.in |
बिहार सरकार ने कोरोनावायरस के प्रकोप को फ़ैलने से रोकने के लिए पुरे राज्य मे लॉकडाउन लगा दिया है| इस लॉकडाउन मे सारे काम बंद हैं लेकिन यदि आपको कोई जरुरी काम के लिए कर्फ्यू ई पास बनबाना चाहते हैं तो आप बिहार सरकार के RTPS के ऑफिसियल वेबसाइट serviceonline.bihar.gov.in से ऑनलाइन आवेदन कर सकते हैं|
CHECK THIS :- Delhi E Pass 2021: Apply Online For Curfew ePass
List of documents required for Bihar E Pass
Bihar ke Jo bhi nagrik E Pass prapt karna chahte hai, Unhe online documents ko Portal par upload karna hoga, Sabhi documents sahi hone par hi, Lockdown E Pass jari karega :-
Name of the applicant applying for e-pass.
Contact Number (to receive a message about the status of the e-pass)
Full address of regular place of travel.
Nature of service ie Government / Private.
Name of the district where duties are to be assigned.
ID proof (must be clear and readable)
Other documents (eg an official letter)
How to Apply For Bihar Lockdown ePass 2021 Online?
Yadi aap Bihar Lockdown ePass 2021 ke liye online Apply karna chahte hai, Ve niche diye gaye Steps follow kar sakte hai :-
ऑफिसियल वेबसाइट पर जाएँ – serviceonline.bihar.gov.in और बाएं साइड में "Covid-19 आपदा के लिए इ-पास का निर्गमन" लिंक खोजे और क्लिक करे |
लिंक पर क्लिक करने के बाद आवेदन पत्र खुल जायेगा | कृपया सभी अनिवार्य सूचना को भरे और "Submit" बटन पर क्लिक करे |
आप अपने आवेदन पत्र का पूर्वावलोकन (Preview) देखेंगे | संतुष्ट होने के बाद [Attach Annexure] पर क्लिक करे |
[Attach Annexure] पर क्लिक करने के बाद "Attach Enclosures" फॉर्म खुल जायेगा | कृपया सभी अनिवार्य अनुलग्न जोड़े और [Save Annexure] बटन पर क्लिक करे |
आप अपने आवेदन पत्र का पूर्वावलोकन (Preview) देखेंगे संतुष्ट होने के बाद [Submit] बटन पर क्लिक करे |
[Submit] बटन पर क्लिक करने के बाद आपको अभिस्वीकृति पाबती (Acknowledgement) मिलेगी |
आप अपने आवेदन को ट्रैक कर सकते है | दाई ओर, "नागरिक अनुभाग" के अंतर्गत "आवेदन की स्थिति देखें" के माध्यम से | कृपया स्क्रीनशॉट को सन्दर्भ ले |
-: Important Direct Links :-
इस प्रकार आप सभी बिहार लॉकडाउन ई पास के लिए ऑनलाइन आवेदन कर सकते हैं| बिहार लॉकडाउन ई-पास के मदद से आप अपने आवश्यक सेवाओं के लिए घर से बाहर निकल सकते हैं|
यदि आपको अभी भी यात्रा ई पास ऑनलाइन आवेदन करने मे दिक्कत हो रही है, तो आप सभी निचे कमेंट करके अपना सवाल पूछ सकते हैं|